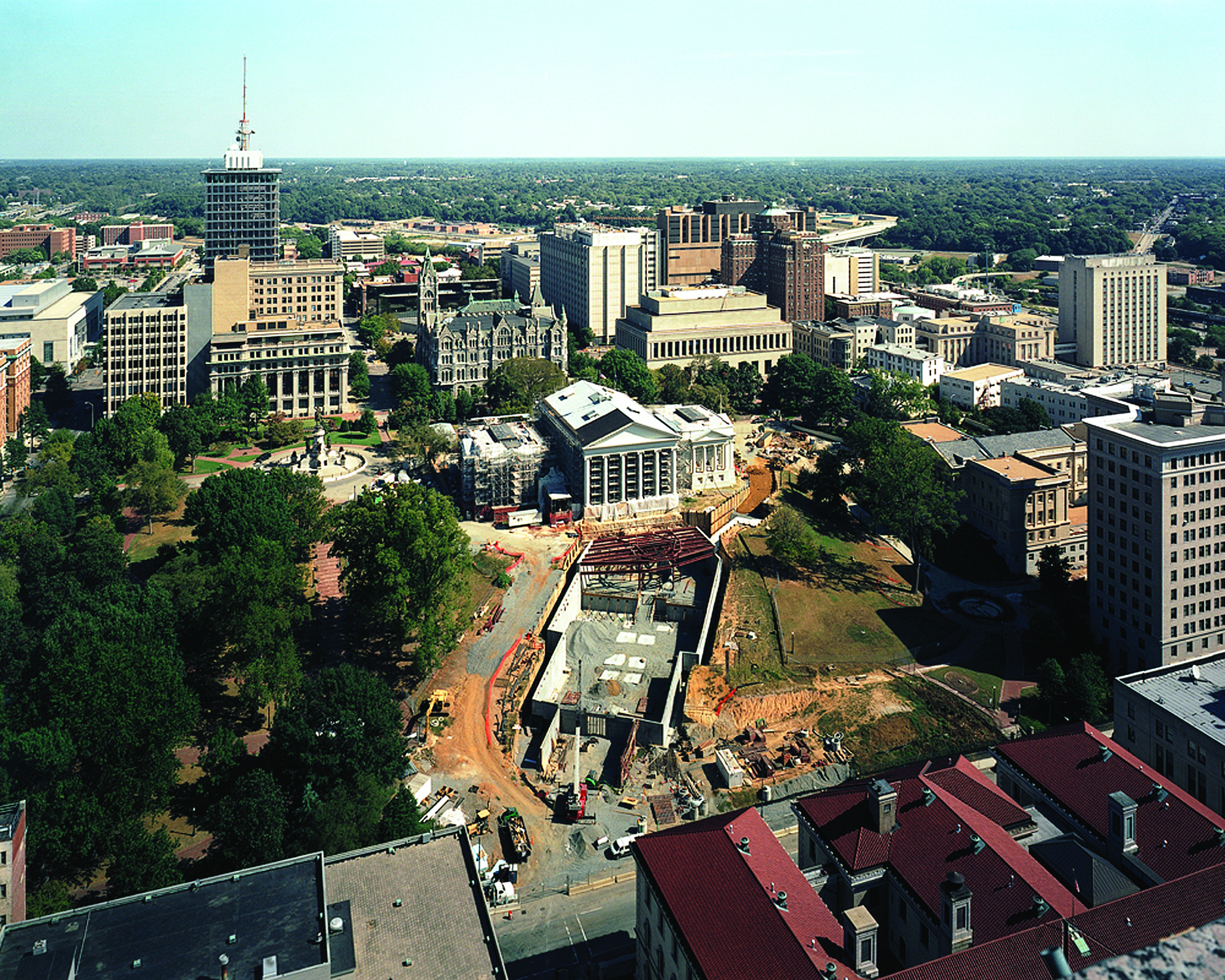 The virginia state capitol
Overview
Designed in 1785, the Virginia State Capitol* is one of the most historic structures in America, in continuous use since 1788. One of four buildings designed by Thomas Jefferson, it is considered the first major public project constructed after the signing of the Declaration of Independence and the first to introduce the classical vocabulary to American architecture, the appropriate architectural expression of America's fledgling democracy.
Following a national search, the Commonwealth of Virginia selected a multi-discipline team of nationally recognized experts in all areas of historic preservation, with George C. Skarmeas as Planning, Design and Preservation Principal, to undertake this iconic landmark's restoration and expansion. This team included Dominique Hawkins of PDP, who acted as a specialty consultant dealing with several sensitive preservation issues.
Project Approach
The project addressed a wide range of issues including:
Identification, dating and documentation of the historic fabric of the building

Extensive historic research to determine the period of significance

Long-term preservation and restoration of materials, systems and assemblies

Unobtrusive introduction of new building systems and 21st-century technology

Security enhancements

Design of a below-grade visitor center and support facility

Retention and restoration of the historically significant John Nottman landscape design

Interpretation of significant historic artifacts in the overall visitor experience
The design followed the highest standards of historic preservation, extending the life of the building and its support systems for approximately 30 more years. All work was planned in a manner that respects the integrity of the historic structure without loss of valuable building fabric. This approach also allowed for future renovations and systems replacements to be undertaken without impacting the building's historic architecture.
The restored Capitol was re-dedicated in May 2007, as part of the Jamestown 400th anniversary celebration, hosting an address by Queen Elizabeth, honoring the first English-speaking settlement in America. In 2008, the Capitol was nominated for inclusion in the US Tentative List of World Heritage Sites. The project has won multiple national, regional, state and local awards for preservation and design excellence.
*Project led by George C. Skarmeas as Design Principal and Director of Preservation Design Studio at HillierARCHITECTURE / RMJM (1996-2010)
STATUS
Completed (2007)
SELECTED AWARDS
Style Magazine, Richmond, Virginia – Building of the Decade (2009)
AIA Virginia Design Awards, Excellence in Architecture (2008)
National Trust For Historic Preservation, Honor Award (2008)
Palladio Award, Adaptive Re-Use/Sympathetic Additions (2008)
Project of the Year Award, Greater Richmond Association for Commercial Real Estate, Best Institutional Project (2008)
AIA Virginia, Award of Excellence (2008)
Building Design and Construction, Reconstruction Award (2007)
Mid-Atlantic Construction, Best Of 2007
AIA Pennsylvania, Citation of Merit (2007)
AIA New Jersey, Honor Award of Excellence in Architecture – Built Category for Design and Sustainability (2007)